Long time readers of this blog will be familiar with a character I called
That Guy
. I introduced him in 2007...
There's this guy. About my age. Good Laser sailor. I've known him for years and after we moved to this area he was one of the first to welcome me to the local fleet. We've raced in a few regattas together this season. And every single time he finishes in front of me. Not by much. A place or three. A few points maybe. And it's driving me crazy.
And he made regular appearances over the years in my accounts of Laser racing on this blog. Almost always the same story. I was forever chasing his transom around the race course and could hardly ever finish ahead of him.
I haven't mentioned him for the last couple of years as he had to give up Laser sailing because of health problems. Then earlier this month, actually while we were away on our vacation in the BVI, I received the sad news. That Guy passed away on December 9 after a long battle with cancer.
That Guy was the well-known and much-loved New England Laser sailor John Bentley. Here is
his obituary
.
One of his many sailing friends wrote that "John was the best thing about Laser sailing." There's a lot of truth in that. It seemed like he befriended everyone with whom he sailed and his outgoing personality and sense of humor livened up every regatta in which he sailed and every party he attended. He knew how to have fun and he helped everyone else to have fun.
He wasn't the kind of guy you expected to be winning every regatta but, all the same, he was a hell of a good sailor, full of enthusiasm, always working hard on the race course, and always sailing fair. He almost invariably finished a few places in front of me when we raced and I never really minded because he made me try harder and, in any case, he was so likable that everyone enjoyed his company.
I think the last time I talked to John was when we did race committee together one Sunday last winter for the Newport frostbite fleet. By then his illness had already forced him to give up Laser sailing, but he still showed up on a cold winter's day to do RC duty for others. That's the kind of guy he was.
Here are some pictures of John...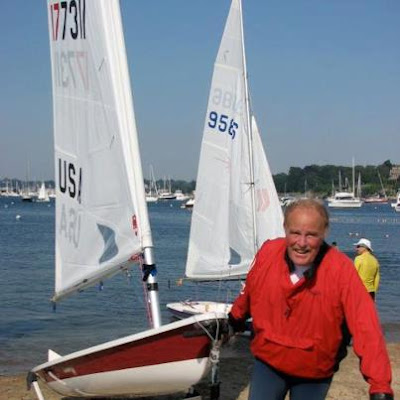 How I will remember him.
Big smile after a day of sailing.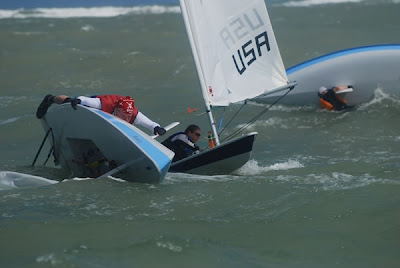 John on the left wearing his trademark 'do-rag'
at the Caribbean Laser Midwinters Regatta in Cabarete in 2007.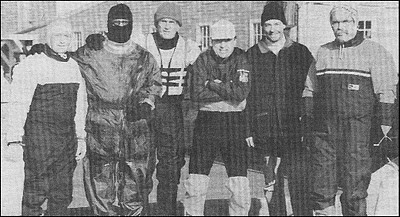 Frostbiting at the New Bedford YC in the winter of 1992/93.
Ted Scott, John Mayer, Bob Saltmarsh, Peter Seidenberg, Mark Bear, John Bentley.
The photo is from the Spring 1993 edition of The Laser Sailor.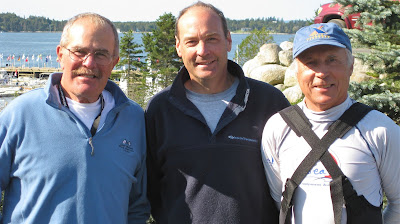 John on the left with Mark Bear and Peter Seidenberg again
at the Laser Masters Worlds in 2009.
Thanks to Kim Ferguson for the photo.
There will never be another "That Guy."