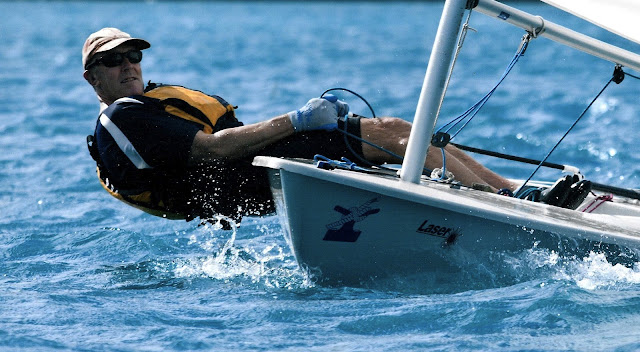 I now own two boats.
A Laser and an RS Aero.
It seems hard to believe but it's less than four weeks since the Aero was delivered.
I have to admit that in those few weeks I have sailed the Aero more times than the Laser, partly because I was desperately trying to learn how to sail the boat properly in preparation for racing in
the first RS Aero Regatta in North America this side of the Continental Divide
.
But the longer term plan is to split my time more or less equally between the two boats.
The question I have is whether sailing two boats that are similar in some ways (both hiking single-handers) but very different in others (designed in different centuries - one half the weight of the other) will make me a better sailor in either or both boats - or just very confused.
Some of my Laser sailing instincts undoubtedly help me in sailing the Aero. Some of those instincts may be totally wrong for the Aero. I need to unlearn old habits and learn new ones for a new boat.
Some of the challenges I face in learning to sail the Aero might help me with the Laser. Better feel for balancing the boat downwind perhaps? More practice at capsize recoveries maybe?
I don't know.
In his classic book on self-coaching in sailing -
SAIL, RACE AND WIN -
Eric Twiname lists swapping boats and classes as one of the twelve main ways of learning, right up there with race experience and solo practice and group coaching.
Twiname quotes Garry Hoyt in support of this theory…
It happens to be great fun to learn the quirks and idiosyncrasies of different boats. You will also find that each class emphasizes some particular skill, and if you learn that class you will have learned that particular skill better than anyone else who has not sailed that class.
So what do you think?
Will sailing the RS Aero make me a better Laser sailor?
Will continuing to sail the Laser make me a better RS Aero sailor?
Or do you only become a good sailor in one class by devoting all your time on the water to that one class?
I would really like to to hear your experiences and opinions on this question.