Twas the night before Christmas when all through the land
Not an Aero was sailing, all racing was canned
It was time for the American class to look back
On which of the sailors had been top of the pack.
In the first month of the year the boys in Seattle
O'Brien and Falk and Bottles did battle
But what a surprise - the mighty are fallen
T
he Frigid Digit
was won by some ringer named Dalton.
Down in Texas in April they run the
Spring Fling
Some handicap races - who knows what they'll bring?
The winds did blow strong for which our lads gave thanks
And first overall was the Aero of Hank.
Hank Saurage
At Charleston in April there was a wild race
From
Fort to Battery
, eighty four hopefuls gave chase
One Aero did enter and what a success
First "boat" overall was the Aero and Lucas.
In the Pacific North West on the Sound of Puget
The RS Aeros have become a huge hit
In
CYC's Spring Regatta
the racing was tight
But first of nine Aeros was incredible Mike.
Michael O'Brien
And so on to Dallas and the
Spring Dinghyfest
A range of conditions gave the Aeros a test
Sounds like the weekend turned out to be a real blast
And first overall was Hank - man he is fast.
In Southern California we have a good fleet
For a
Cinco de Mayo regatta
they all did meet
Catherine made history of which we must write
First female to win an RS Aero event outright!
Catherine Gloster
Those dudes in Seattle sure hold lots of regattas
In May they had one called
POD
for what it matters
Eleven Aeros for nine hours worked hard in the races
National champion Dan won overall with five first places.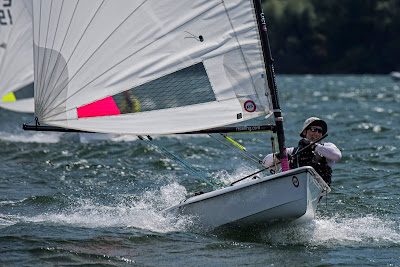 Dan Falk
On Memorial Day weekend the Aeros went to race in LA
Thanks to the hospitality of the folk at
Alamitos Bay
The winds weren't too strong so nobody had to swim
Winning most of the races and first overall was Jim.
At the
Wickford Regatta
in June the winds blew like crazy
A dozen Aero sailors showed up. (Not your author - he was lazy.)
Doug came from Utah, Jamie from Texas. What a lark!
Nobody was surprised when the winner was Marc.
Marc Jacobi
A week after that even more Aeros came to
Lake Massapoag
Which for future reference, rhymes not with rogue but with bog.
It is close to Boston and one of the best places to sail on the planet
And the winner of the day was a sailor from the UK called Gareth.
The regatta in
Seabrook
was incredibly hot
It's in Texas so such temps surprising are not
Five Aeros showed up to race in the heat
Hank won again! Repeat and repeat.
At the
Newport Regatta
we set a new record it seems
Biggest Aero regatta ever on the east coast at seventeen.
The winds were unfortunately incredibly light
Marc took first place but Pete and Christine gave him a good fight.
Thirty five sailors went to the
Nationals
to race in classic Gorge style
What an amazing event - we all came away with huge smiles.
Catherine was first five rig and Peter B was first seven
Dan Falk won the nines. It was like racing in heaven.
And then in September it was back to
Massapoag Yacht Club
Where the winds are always perfect and they serve excellent grub.
We had six races on Saturday and on Sunday enjoyed a little squall
Marc won the regatta but good fun was had by all.
The
Aero Gulf Coast Champs
were part of the Houston HOOD
Eight sailors took part which is better than good.
It was hot I am told and the winds were quite light.
Marc won, but it seems Hank gave him a hell of a fight.
The
Puget Sound Sailing Champs
lost one day due to Songda.
What? That's an impossible rhyme so I'll just go with "wronged her."
On Sunday the winds went from twenty five knots to near calm
Dan Falk won this one beating Olympian Carl with nary a qualm.
In October the Texas Aero Fleet went back to
Rush Creek
For some handicap racing and to work on technique
Ash had a problem with elbow bursitis
Another impossible rhyme so I won't even fight this.
Hank won.
At the end of October the fleet in Santa Barbara had a regatta called
Goblin
Which is another difficult rhyme and it doesn't scan so please stop squabbling
My wife says this poem seems more like a saga
I think I'll take a break and have a lager.
Payne won.
Then back to Texas, to Canyon Lake for the
Wurstfest
To decide who is the worst and who is the best
The famous Dion from YouTube even showed up
The winds were light and the amazing Hank won the cup.
Twas was the weekend before Thanksgiving so they held a
Turkey Bowl
At Seattle's Corinthian Yacht Club on the Bay of Shilshole
Derek Bottles worked hard and did well I am told
But the winner was Carl who has an Olympic medal of gold.
Carl Buchan and Derek Bottles
Phew. Is that the lot? Did I miss anybody?
Twenty Aero regattas! That's not too shoddy.
After all of this rhyming I'm starting to think
That I really deserve a stiff Christmas drink.
Thanks to the UK RS300 Class for giving me the idea to write this nonsense.