In March 2015, Steve Cockerill of Rooster Sailing fame published an account on his blog of
testing the RS Aero and the Devoti D-Zero
in 20 knots of breeze (gusting to 25) at Stokes Bay Sailing Club in England.
For those of you who have been living under a rock for the last year or so, the
Devoti D-Zero
and the
RS Aero
are two new lightweight single-handers which were both launched at the UK Dinghy Show in March 2014. Both of have sold in large numbers in the UK. Here in the USA (where I live) there isn't a strong distributor network for the D-Zero, so the RS Aero has been much more successful. (So far.)
Living under a rock
Steve's review of the two boats is very comprehensive and covers pretty much everything you would want to know from what it was like to launch and recover them off a lee shore in strong winds, to how it felt to sail them on different points of sail, to how easy it was to adjust the controls, etc. etc. etc. You can read his review
here
.
Inevitably Steve also compared the performance and feel of the D-Zero and RS Aero with the more ancient but extremely popular Laser. And I was particularly amused by how Steve chose to describe the sensation of sailing downwind in the three different boats.
He writes that, "As a Laser sailor who works very hard to get my Laser to manoeuvre, I normally feel like I am dancing with Ann Widdecombe." 68-year-old Ann Widdecombe, a former British Conservative MP, appeared on the British TV dancing competition program
Strictly Come Dancing
which is presumably where Steve gained his impression on what it would be like to dance with her...
"Works very hard to get her to manoeuvre"
By contrast Steve found that the D-Zero was "eager and responsive" downwind and was moved to comment that it was more like dancing with Caroline Flack. The 36-year-old Miss Flack is an English TV presenter who appeared on
Strictly Come Dancing
in 2014 and actually won it.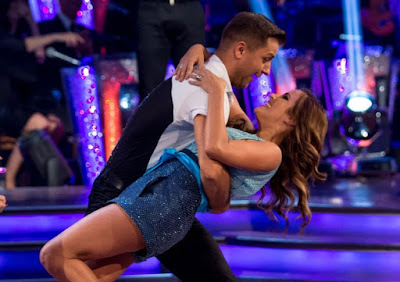 "Eager and responsive"
I don't think Steve liked the RS Aero quite as much as the D-Zero. He reported, "The Aero was very stable and took the downwind easily whether I opted for wave avoidance or just took her straight downwind by the lee. Pretty much predictable downwind sailing. You might find a hint of disappointment in my words, as I do like to do a bit of a dance, and this reminded me of dancing with Judy Murray – sportie robust but rather stiff."
56-year-old Judy Murray is a Scottish tennis coach and the mother of professional tennis player Andy Murray (currently ranked #2 in the world.) Of course she also appeared on
Strictly Come Dancing
. How else would Steve Cockerill know what she is like as a dance partner?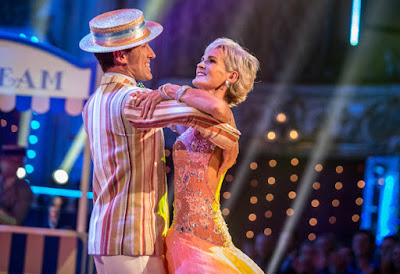 "Sportie, robust but rather stiff"
And that, of course, is the answer to
yesterday's photo quiz post
. Thanks to everyone who took a shot at it. Sorry this one was so obscure!