2015 was another funny old year.
Inevitably I will remember it as the year of the RS Aero.
Let's see what I blogged about...
---
In January, as usual, I was pondering my New Year's Resolutions. To resolve or not to resolve; that is the question. Eventually I decided to ignore what Eric Twiname and Dennis Conner said, and instead to follow the advice of Samuel Beckett and Damian from The Final Beat blog, not to mention inspiration from
Jayne Mansfield and The Two Ronnies
.
The Two Ronnies
with someone who is not Jayne Mansfield.
Sorry about that.
The plan was to
1. Envy more.
2. Do more than those guys do.
3. Fail again.
4. Fail better.
It didn't exactly work out because "those guys" did even more.
But I did achieve #1 and #3.
Oh well!
February's blogging was a little sparse, touching on such topics as
Janet Jackson's breast
, how to get from
Rhodes to Rhodes
, and
why America still seems strange to me even after living here for over XXV years
. Nothing to see here. Let's move along.
March 2015 is a month that will go down in sailing history for being the first time that an RS Aero was sailed in Newport, Rhode Island. Or anywhere in Rhode Island, I guess. Probably the first time in the whole of New England.
It all happened because of the ingenuity, persuasiveness and persistence of my friend, the sailor formerly know as the Email Dude. The Email Dude had had an RS Aero on order for a year. But he still hadn't had a chance to try one. So he persuaded our friendly local RS Aero dealer, Scott Hardy of the Boat Locker, to lend us his demo RS Aero. Not deterred that we were in the middle of the worst winter in living memory, and that all the lakes and most of the bays were frozen over, the Email Dude took the demo RS Aero to Newport... and
the rest is history.
The Email Dude launching his RS Aero in Newport
I was still waiting for delivery of my RS Aero in April.
But it was on its way!
I was so excited I even blogged about the container ship it was on.
And obsessively followed the ship's track.
What can I say? It was a long winter. I even lost Tillerwoman in the snow one day.
Sorry about that dear.
May was a great month. A HUGE month.
On May 14, Scott delivered three RS Aeros to my house.
The Aeros Have Landed
!
Three shiny new RS Aeros
My two friends and I had a few chances to practice with our RS Aeros, including one memorable day when it was gusting 30 knots, and then at the end of May we raced in the
First RS Aero Regatta in the USA East of the Continental Divide
.
These two quotes from that post say it all.
"Saturday was a perfect day for racing on Lake Massapoag, sunny, 80 degrees, wind from the SW in the mid-teens gusting into the 20s. Champagne sailing conditions."

"I can't remember the last time I had so much fun at a regatta."
Me in an RS Aero
June was a great sailing month too.
I mixed it up with some Laser sailing in Rhode Island and RS Aero sailing at the lake club in Massachusetts. This caused me to write a post pondering the benefits of sailing in two different classes
A Tale of Two Boats
.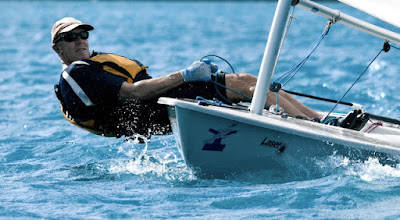 Me in a Laser
I was also competing in the Wednesday night pursuit races in the club and wrote a post trying to explain why I was enjoying this experience so much - with the cheesy title
The Pursuit of Happiness
.
What can I say about July?
I sailed in one of the most amazing sailing venues on earth, a place long on my bucket list, in the first North American Championship for the coolest new singlehander on the planet.
What could be better than that?
August was a quiet month for blogging in Lake Wobegon, apart from some more babbling about how awesome the RS Aero North Americans had been. I think I was still high. Sorry about that.
September was memorable for the
66th Annual Massapoag YC Regatta
which is famous for having the largest ever fleet of RS Aeros to sail in a regatta east of the continental divide. One of my blogging friends described this post as, "Best race report which barely discussed sailing I've ever read."
Skippers' meeting at 66th annual MYC regatta
I've noticed I have developed a tendency to write very long posts about the first day of a regatta and then forget to write anything about the second day. Sorry about that.
October was memorable for
the day when I (almost) won the 43 boat Archipelago Rally
. Thankfully it was only a one day regatta so my readers weren't deprived of half the story.
For some reason this photo is in my post about the Archipelago Rally
but now I don't recall actually seeing this boat in the race.
November was memorable for my return to Laser frostbite racing in Newport.
I wrote about it at the pithily titled
Hubcap Diamond Star Halo 56th Sail
.
Me sailing my Laser in Newport
and actually doing well in one race
Bang a gong!
December was memorable for another awesome sailing vacation at Bitter End Yacht Club and actually doing well in another race with the Newport Laser Frostbite Fleet. I haven't written about either of them (much) yet. Sorry about that.
---
2015 was another funny old year.




I sailed small boats - RS Aero, Laser or some variety of Hobie cat - on 66 days in the year, which is about average for recent years.




But I only wrote 128 blog posts which is way down from my usual output.




Sorry about that.

Maybe I should scrap this blog altogether and start writing a new one called Sorry About That?