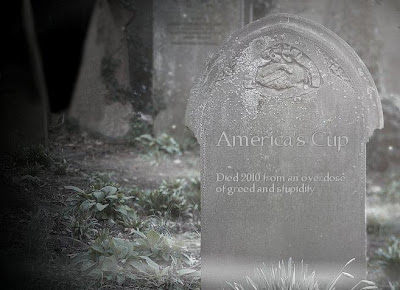 There's much wringing of hands in the blogosphere and elsewhere today about the latest turn of events in the America's Cup. If Larry wins his latest challenge claiming that it is against the rules for Switzerland to compete with American sails then Ernesto will go home and sulk and let Larry have the Cup. It's "depressing"; it's "disastrous"; it's "terrible for sailing" the pundits are saying.

I beg to differ...

The America's Cup has always been an anomaly, an outlier in the world of sailing. I don't accept it is the "pinnacle" of our sport in the same way that Wimbledon, say, is the pinnacle of tennis, or the Boston Marathon is the premier event in the world of long distance running.

At Wimbledon and Boston the participants are playing the same game in the same way using essentially the same equipment as us mere mortals. They just play the game a lot better than you or me, and we can admire them for that. On the other hand, the America's Cup has always, always been about exceptional boats using latest technology financed by extremely rich individuals using every weapon available to them (including lawyers and PR men) to tilt the playing field their way if they possibly can.

The America's Cup does not represent the sport of sailing that I play in any meaningful way. The sooner the whole event dies an ugly death, or failing that is recognized as irrelevant to the true sport of sailboat racing, the better as far as I am concerned.

On the other had if the match does go ahead I will be watching it with bated breath. I can't wait to see those two massive multihulls smash into each other at a combined speed of 100 knots.

RIP America's Cup.

Good riddance.



Update 4:30 pm. Apparently Justice Kornreich agrees with me. She wants to see the monster multihull smash-up too, so she won't decide on the challenge about the legality of Alinghi's sails until after the racing. Yeehow!